OUR DOGS
Thomas' Char-Gin Dersam Boston - Deceased 2019
Arkwright-Thomas' Nanny McPhee - Deceased 2010
Thomas' Chesney' Pawpy - Deceased 2018
Last ESXRC Litter Born 10/10/08
Old Time Shepherds Litter 8-26-14
Old Time Shepherds Bos-Mag Rob
Welcome to our web.
English Shepherds "Trey" & "Huckleberry" reside with us on a working Ranch in Central Oregon.
our English Shepherds have assisted us with the management our herd of horned Dexter cattle, along with a large family of kids, horses, chickens, ducks cats and a goose over the last 17 years. They've kept the Wild Turkeys and Deer out of the yard & keep the coyotes & rattlesnakes away!
These ES are excellent companions and assistants on the farm. Our ES watch & evaluate situations and lend a hand or cover our back when needed. They eagerly pitch in to help & to please but "turn off" & don't harass the animals unnecessarily.
They are Guardians (of man & beast), Companions, Helpmates...everything we ever wanted or needed in a farm dog!
Contact us if you'd like to chat about English Shepherds, we're really impressed with them!

**Click on the dogs name listed under "Our Dogs" to see their individual pedigree and photos.Pawpy (deceased 2018), Boston (deceased 2019), Nanny (deceased), Maggie -retired and caring for our Great Grandkids, Diva (deceased) - Trey & Huckeberry are the current crew.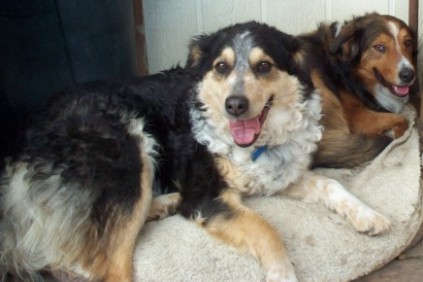 Old Time Shepherds - Sandi Thomas
Email: thomas97001@yahoo.com
Antelope
OR 97001
USA
Ph:541-420-7966